Q4 is coming up soon, which is typically the best time of year for eCommerce sales.
In this article I'll be giving you 9 things I'm doing to get my online stores ready for Q4.
9. Note last year's trends
You can see what was trending last year using Google trends.
Your platform specific research tool may also give you historical data e.g. you can see last year's trends in BubbleTrends.
History tends to repeat itself – what was popular last year at a specific time has a good chance of selling well this year too.
8. Increase prices – but ONLY on products that are selling well
If a product is selling well, its demand is more inelastic than your other products.
This means you can increase prices without fear of losing too many customers, and thus make more profit.
But don't increase all your prices.
For any products that haven't sold yet, maybe even consider lowering its price to try and generate a Q4 impulse buy.
7. Check your POD platform for new products
Platforms like Redbubble and Printful are constantly rolling out new products. I recommend turning on all RB products anyways, so make sure you do this for your older products.
For production partners consider putting existing designs on new products to maximize your share of "online real estate".
6. Start designing for holidays early.
If you're reading this in August or September, start designing Christmas designs now, and advertising them if that's something you do.
Designs can take weeks to rank on Google, even if the platform ranks them in minutes.
By the time it actually gets to December, they'll be everywhere.
Early uploaders definitely have an advantage on POD platforms where competition is increasing by the minute.
Taking up as much of the market as you can before Q4 is ideal.
5. Add in relevant trending, gift related and seasonal keywords.
I have the word 'gift' in the title or tags of 90% of my uploads, as customers are always searching for them.
If you've uploaded a design that could be appropriate for a gifting occasion, add those keywords in.
In my opinion, your time is better spent editing existing listings than uploading new designs if you're short on time (try and do both though).
This is because older listings have had time to rank and get registered by search engines – and it's less effort.
4. Run a sale.
I'm constantly running sales on my Etsy listings (year round). Platforms like RB, and TeePublic are always running sales on your behalf too.
This helps for ranking, and psychologically influences customers.
You might have been told this is bad practice for business, but that's only really relevant when you're a recognizable brand or have loyal customers.
As a POD seller that's probably less likely.
3. Advertise/promote early.
Get customers hyped for your new designs even before Q4 rolls around.
2. Design more for batch and gift items.
These include cards, stickers, pins – anything customers might have a reason to buy more than one of, or mass buy for events. These make great small gifts, and kids love them.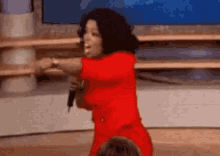 1. There's always next year.
People (like me) tend to make a big deal out of Q4.
But as a print on demand seller, your designs will hopefully be on the market indefinitely – by default, you're earlier than next year's sellers.
So it's never really too late to upload – start now.
Happy designing!